Testimonianza: Intervista a Denis e Michelle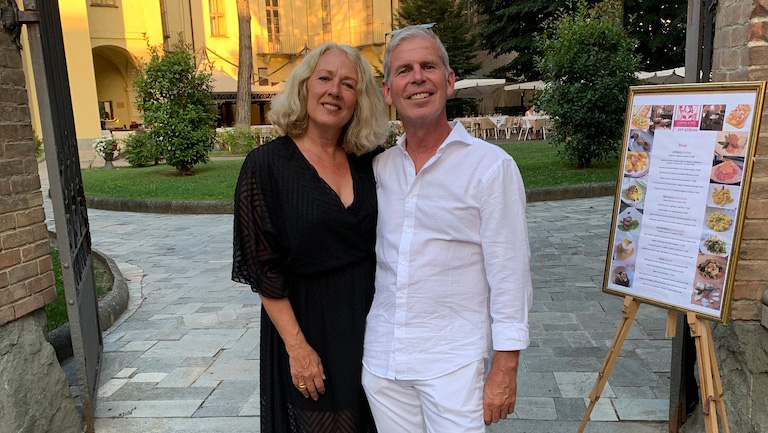 Versione in inglese:
First of all we would like to know you better: do you want to tell us something about you and about your family?
We are Michelle (age 55) and Denis (age 60) from Gouda in the Netherlands. Together we have four grown up children, two daughters (age 22 and 24) and two sons (age 25 and 28) who are all living in Amsterdam. We also have a little French bulldog, Rafa, who likes coming with us to Italy a lot. We live in a very old restored building (a former catholic maiden school) in the heart of the historical center of Gouda, famous for the Gouda cheese and Gouda candles.
Why you decided to buy a property in Piedmont? What do you like about this area?
Actually we were looking for a second house in Emilia Romagna or Tuscany. By accident I saw a house on the internet which was near Bubbio. We than decided to visit Piedmont to see if we liked the region. When we arrived, we were very pleased to see that Piedmont had everything we liked. Beautiful cities and cozy small villages, endless views, good food and wine. The combination of country, beach, mountains and cities like Torino, Genova and Milano makes it perfect for us.
What kind of property were you looking for?
We were looking for an old house in the hills, with a big plot of land and a panoramic view. A place that feels like home and big enough to stay with our family.
How you knew the Monti Real Estate Group?
We saw a few houses on the internet at Monti Real Estate Group, so we contacted them for an appointment to take a look at some houses.
Could you tell us about the experience that you had with the Monti Real Estate Group?
We were very pleased with Andrea Monti as our broker. From the first start when we visited several houses the guidance and honest advice of Andrea was perfect during the whole process. Even when we were at home in the Netherlands and had selected the house of our dreams, Andrea worked very hard to negotiate with the seller to reach the best of everything  in our interest. After closing the deal Andrea and Martina arranged all the paperwork (townhall, bank account, notary, etcetera) and made it all very easy for us!
And what can you tell me about the beautiful property that you bought? What impressed you particularly?
The property is stunning! The old farm house has been restored, but the authentic parts stayed remained. The land around the house is beautiful, with parts of fruit trees, woods and the little dears on the land by sunset and in the evening are amazing. The views are astonishing on each side of the house. With a panoramic view over Acqui Terme and the surrounding hills on one side and on the other side a great view on the ruin of an old castle and wood land. The house is spacy inside, but cozy because of the terracotta floors and the old authentic ceilings.
After the purchase you decided to make even more wonderful your house building a beautiful infinity pool … what about the after-sale service? Are you satisfied with how the Monti Real Estate Group has supported you in this delicate phase?
Also during the after sale period Monti Real Estate Group helped us with everything. With their advice for a builder, the geometra and pool company we had the best people working on our swimming pool. Like during the acquisition faze they arranged all the paperwork, answered hundreds of emails and phone calls and were helpful whenever we needed them. We are very grateful that they assisted us with almost everything that had to be done. This made it extremely easy for us while they delivered quality in every way.